Service News 2022

3 January 2023 - Abu Road (Rajasthan, India)
Hon. President of India lauds the active role of Brahma Kumaris in Women Empowerment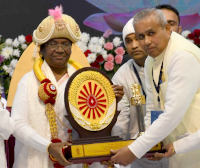 The Honorable President of India, Smt Droupadi Murmu graced the launch of the National Campaign on 'RISE-Rising India through Spiritual Empowerment', organized by Brahma Kumaris at Diamond Hall in Shantivan. The hall was packed by members of Brahma Kumaris from different states of India. Many senior members including BK Munni, Joint Chief of Brahma Kumaris, BK Mruthyunjaya, Executive Secretary of Brahma Kumaris, BK Brij Mohan, Additional Secretary General of Brahma Kumaris, BK Karuna, Multi Media Head of Brahma Kumaris, BK Sushma from Jaipur were present on the stage.



When will the dawn of Satyug begin? - BK Sudha | Call of Time | Awakening TV (24-12-2022)


27 November 2022 - Moscow
The Power of Transformation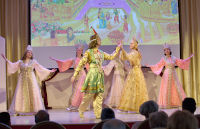 The festive program "THE POWER OF TRANSFORMATION" took place at the Brahma Kumaris Centre in Moscow on 27th November and was dedicated to Diwali and New Year. This program completed the cycle "Russia – India: Binding Threads" dedicated to the 75th anniversary of the independence of fraternal India.


20 November 2022 - Moscow
A smile of the talent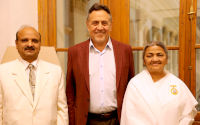 A wonderful programme, dedicated to the memory of Renat Islamovich Ibragimov, People's Artist of Russia and Tatarstan was organised at Brahma Kumaris, Moscow. On this very day (20th November, 2022) Renat Islamovich would have turned 75 years old. He gave more than fifty of those years of life to serving people, delighting them with his velvet baritone.


27 October 2022 - Moscow
On the occasion of completion of 33 years of service in Russia...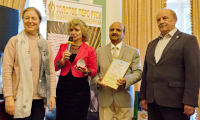 On the occasion of 33rd Anniversary of services of Brahma Kumaris in this part of the world, on behalf of the founding members of Brahma Kumaris in Russia, Bro. Vijay received a prestigious Social Award "Labour Valour of Russia" ("Трудовая Доблесть России") along with the "Medal of Honour and The Certificate of Appreciation."


14 October 2022 - Moscow
Lyubov Kazarnovskaya, famous opera singer, visits Brahma Kumaris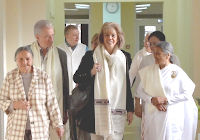 Brahma Kumaris World Spiritual University is open to people of all ages, nationalities, religions, professions. Spiritual wisdom is as necessary as air for absolutely everyone - especially now, when the world is in a state of extreme contradictions. On a sunny October day, the doors of the Center opened for two amazing guests, known all over the world for their unique talents. Mrs. Lyubov Yurievna Kazarnovskaya, an opera singer who performed on the most famous stages of the world, visited the Center together with her husband Mr. Robert Roszik, a famous music producer.


September 2022 - Vladivostok
Visit of Sudha Didi to Vladivostok, Far Eastern Capital of Russia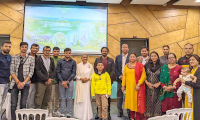 Sudha Didi, Senior Faculty Member and Raja Yoga Teacher of Brahma Kumaris, Trustee and Co-Incharge of services in Russia and neighboring countries, has for the first time visited Vladivostok, the far eastern Capital City of Russia. A variety of programmes were organised during her 10-day visit to serve the society in this city.


Video Godlywood Studio "Natural home remedies for diabetes"