Центр Духовного Развития
Межрегиональная общественная организация содействия единству цивилизаций, культур и религий
Цели: утверждение идей духовного единства, нравственное оздоровление общества, возрождение общечеловеческих ценностей, духовное и нравственное совершенствование на основе милосердия, доброжелательности, терпимости, уважения и сотрудничества.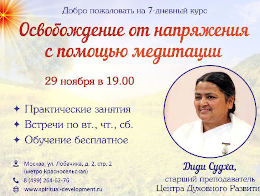 Service News

Service News 2022


14 October 2022 - Moscow
Lyubov Kazarnovskaya, famous opera singer, visits Brahma Kumaris
Brahma Kumaris World Spiritual University is open to people of all ages, nationalities, religions, professions. Spiritual wisdom is as necessary as air for absolutely everyone - especially now, when the world is in a state of extreme contradictions. On a sunny October day, the doors of the Center opened for two amazing guests, known all over the world for their unique talents. Mrs. Lyubov Yurievna Kazarnovskaya, an opera singer who performed on the most famous stages of the world, visited the Center together with her husband Mr. Robert Roszik, a famous music producer.


September 2022 - Vladivostok
Visit of Sudha Didi to Vladivostok, Far Eastern Capital of Russia
Sudha Didi, Senior Faculty Member and Raja Yoga Teacher of Brahma Kumaris, Trustee and Co-Incharge of services in Russia and neighboring countries, has for the first time visited Vladivostok, the far eastern Capital City of Russia. A variety of programmes were organised during her 10-day visit to serve the society in this city.